Try to find a reason to say no to seconds of this Couscous Cake. It is a tough proposition. Read the following paragraphs and you might eat the entire dessert!
There are a lot of good things to say about this dessert. It is made of whole wheat couscous which contains iron, fiber and protein. The Harvard School of Public Health recommends you get 20 to 30 g of fiber each day. It also has tahini which is made from sesame seeds. These magical seeds are loaded with protein, thiamin, vitamin B6, calcium, iron, magnesium and copper.
Along with the dried blueberries and the tofu topping, this dairy-free and refined sugar-free couscous cake makes for a light dessert that is perfect for the summer.
Sources:
http://www.hsph.harvard.edu/nutritionsource/what-should-you-eat/fiber-full-story/
http://nutritiondata.self.com/facts/nut-and-seed-products/3070/2
Ingredients
Couscous Cake:
6  cups apple juice
1 tablespoon vanilla extract
½ tablespoon lemon zest
3 cups whole wheat couscous
pinch of salt
⅛ cup dried blueberries
Topping:
16 oz. extra-firm silken tofu, patted dry  (we use the boxed Mori-Nu brand that isn't refrigerated bought at Whole Foods or Mom's Organic Market)
½ tablespoon lemon zest
½ tablespoon tahini
1 teaspoon vanilla extract
⅛ teaspoon cinnamon
½ cup maple syrup
½ tablespoon tapioca starch
¾ teaspoon Ener-G Egg Replacer whisked into 1 tablespoon warm unsweetened soy milk
Pinch of salt
Directions
1. In a large saucepan, place the apple juice, vanilla, salt, lemon zest and whole wheat couscous and bring to a boil.

2. As your stir the boiling mixture the couscous will soak up the liquid and become thick, see smaller picture below.
3. Turn off the heat and mix in the dried blueberries.
4. Pour this mixture into an 8″ springform pan and set aside until cool.
5. In a food processor, combine all the topping ingredients and blend well.
6. Pour the topping over the cake that is in the springform pan.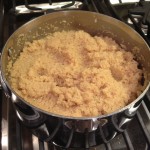 7. Place the completed cake into the refrigerator and let chill for 3 hours.
8. Once the cake and topping have set, release the springform and place berries on top the cake before serving.
If you enjoyed this post, subscribe for free to receive new recipes by email.
Tagged: Apple Juice Sweetened, Berries, Cake, Couscous, Dessert, Dried Blueberries, food, Natural Sugars, Recipe, Sugar-free, Tofu, tofu ingredient, vegan, Vegetarian